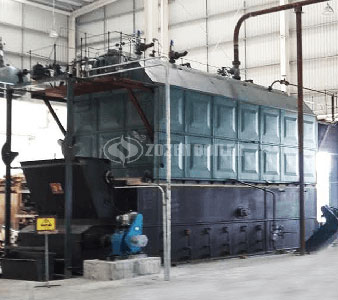 10 tph SZL coal fired water tube boilers project
Project boiler medium: Steam
Capacity: 10 tph
Project site: Vietnam
Equipment: SZL10-1.25-AII
Application area: Apparel industry
Case introduction
Coal-fired water tube boilers play an important role in the process of dyeing, steaming and printing in apparel industry. Worldon (Vietnam) co., Ltd is one of famous garment factory invested by Shenzhou International. It produces high-end apparel for brands such as ADIDAS, PUMA, UNIQLO, NIKE, etc.. In order to meet need of the market, ordering a new steam boiler with high efficiency and stable running is of vital importance to Worldon.
In 2015, Worldon (Vietnam) co., Ltd had partnered with ZOZEN, ordering two sets of coal-fired water tube boilers. After 3 years' stable running, ZOZEN's coal-fired water tube boilers are proved that the fuel can be fully burned and thermal efficiency can reach above 98%. Therefore, ZOZEN is preferred by Worldon, providing them with a coal-fired water tube boiler this time.
Customer feedback
Steam boilers are of great significance in our apparel industry. We have already ordered three sets of ZOZEN's coal-fired water tube boilers, which feature strong output, reliable safety and sufficient combustion. We really appreciate ZOZEN's punctual deliver time and remarkable customer service.