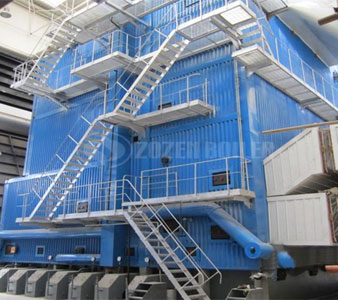 46 MW DHL angular pipe water heating boiler project
Project boiler medium: Steam
Capacity: 46 MW, 29 MW
Project site: Shenyang, Liaoning
Equipment: DHL29-1.6/130/70-AII(angle) hot water boiler
Application area: University
Case introduction
China Medical University, (CMU) for short, is located in Shenyang, Liaoning Province. It was jointly established by the National Health and Family Planning Commission, the Ministry of Education, and the Liaoning Provincial People's Government. According to incomplete statistics, there are 9,157 staff in the school, and 15,548 full-time school students. Such a large group needs to do a good deal of heating and sanitation measures in advance in Shenyang with a particularly long-term winter.
ZOZEN boiler is a fixed-point manufacturer of boilers and pressure vessels approved by the General Administration of Quality Supervision, Inspection and Quarantine of the People's Republic of China. This China Medical University purchased a 46 MW and a 29 MW DHL series angle tube water heater from ZOZEN boiler. This series of boilers are second-generation angle tube type hot water boiler product, which combines the technical characteristics of large-capacity hot water boilers at home and abroad, and uses the invention patents and utility model patents jointly applied by Xi'an Jiaotong University and ZOZEN boiler, and its water circulation structure is reliable and advanced, and its comprehensive performance exceeds that of similar products.
Customer feedback
The installation staff of ZOZEN boiler has efficiently arranged and commissioned the boiler equipment in a short period of time to ensure the reliable operation of the hot water boiler equipment, and it brought warmth to the staff and students of our school in the cold winter.