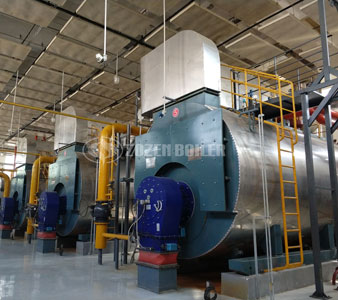 10Tons WNS Series Condensing Gas Steam Boiler Project
Project boiler medium: Steam
Capacity: 10 Tons
Project site: Yuyao, Zhejiang
Equipment: WNS10-1.25-Q
Application area: printing and dyeing industry
Case introduction
Steam boiler plays an important role in drying, embossing and forming of printing and dyeing industry. Yuyao Fengying Printing, Dyeing and Weaving Co., Ltd. is specialized in the dyeing and finishing of light textile fabrics, such as spandex, cotton, polyester cotton, human cotton, etc. In the "Three-year Action Plan for Winning the Blue Sky Defense War", the State Council defined the main tasks of air pollution prevention and control, and cities began to promote large-scale "coal to gas" action.
Fengying Printing and Dyeing actively participated in this environmental protection action, and actively implemented green renovation of old boilers. Due to the high cost of transforming coal-fired boilers into gas-fired boilers and the low thermal efficiency after transformation, a new series of WNS gas-fired steam boilers (WNS10-1.25-Q) were introduced into Fengying Dyeing and Printing Company on the recommendation of Zozen Boiler. This series of gas-fired boilers are typical environmentally friendly boilers: they have wide fuel adaptability and are suitable for natural gas, biogas, liquefied petroleum gas and other clean energy sources; the use of large-diameter corrugated furnace gallbladder, combined with advanced low-nitrogen combustion devices, can easily achieve low emission of NOx. At the same time, the boiler flue gas tail is equipped with energy saver and condenser, which can reduce the exhaust gas temperature, and the thermal efficiency can be as high as 98%.
Customer feedback
The steam boilers we are offering at this time have the characteristics of high output, high efficiency and full automatic and safe operation, which make us save money and care. This selection of Zozen Boiler as our boiler supplier is really the right choice, looking forward to the next cooperation.