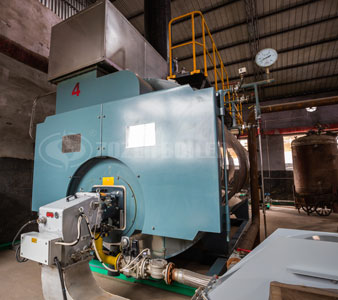 6 tons WNS Condensing Gas Boiler Project
Project boiler medium: Steam
Capacity: 6 tons
Project site: Inner Mongolia Autonomous Region
Equipment:2 sets of WNS6-1.0-Q
Application area: School/Hotel industry
Case introduction
Xincheng Hotel is the first five-star state hotel in Inner Mongolia Autonomous Region, which integrates catering, accommodation, entertainment and conference. It has guest rooms, restaurants, bars, conference venues, theatres, shopping shops and state guest travel agencies. Since its establishment, it has always assumed the task of receiving Party and state leaders, foreign heads of state and important guests from all walks of life. In such a large and important place, heating and sanitary water in winter must be backed up by high quality, safe and reliable boilers. After bidding activities, Xincheng Hotel cooperated with ZOZEN Boiler to provide 2 WNS condensing gas boilers with 6 tons by ZOZEN.
The threaded flue pipes of this series of boilers are the high efficient heat transfer original parts of the ZOZEN Boiler for many years. When the thread groove depth and pitch are selected, the heat transfer coefficient is 1.2 times higher than that of the ordinary flue pipes when the flow resistance is the lowest.
Customer feedback
The most important feature of ZOZEN Boiler is its reliable operation, which is particularly important for our state guesthouse. Once the boiler is put into operation, it runs automatically. The combustion, water level, water temperature and steam pressure are automatically adjusted and protected, which facilitates the operation of our staff. This series of boilers are equipped with natural gas as fuel, which is pollution-free after combustion and ensures the heating and water supply of our Xincheng Hotel.